Chatham County senior 4-H'ers take first in state wildlife judging
Chatham County's senior 4-H team won first place at the Georgia 4-H State Wildlife Judging contest at Rock Eagle 4-H Center on April 29, earning Master 4-H'er status for team members Jacob Allman, Derek Wangai, Jason Allman and Hayaat Labaran.
Wildlife judging takes the fun of 4-H to the outdoors as participants gain an appreciation for the world around them. The competition challenges participants to understand wildlife habitat management and how to preserve these valuable ecosystems.
Students also learn to interpret wildlife habitat from aerial photographs and to verbally communicate the reasoning for their decision-making process. Additionally, 4-H'ers study common wildlife food sources for identification purposes.
Faculty with the University of Georgia Warnell School of Forestry and Natural Resources and industry experts contribute to the curriculum used to train 4-H'ers and help provide youth with practical applications of the skills they learn.
Charlie Wurst, Georgia 4-H specialist for camping and natural resources, is grateful for the partnership with UGA.
"We would like to extend a special thanks to Dr. Michel Kohl, Extension wildlife specialist, and graduate students Jennifer Brown and Lavendar Harris for their assistance with facilitating the contest," Wurst said. "Connecting 4-H'ers with their environment and with our natural resources is invaluable as we mentor Georgia's youth to be stewards of their world."
Chatham County 4-H will represent Georgia at the National Wildlife Habitat Education Program Contest in London, Kentucky, this July.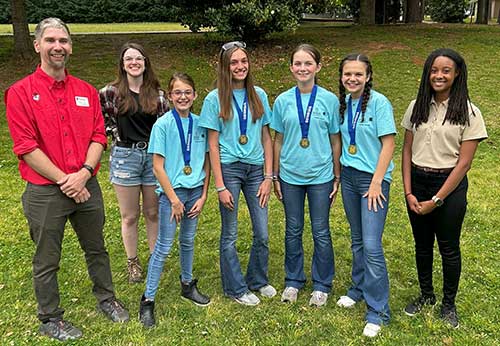 Nine counties sent 86 competitors to the state contest. Junior teams are made up of youth from fourth through eighth grades and senior teams are ninth through 12th grade 4-H'ers.
The first place junior team from Burke County included Macy Doyen, Mallery Wyrick, Emree Williams and Lucy Lane. Additional winners in the contest include second place senior team from Bleckley County. The second place junior team was Gwinnett County and the third place junior team was Cobb County.
The first place overall senior was Tony Gray from Burke County and the first place overall junior was Evelyn Hayes from Gwinnett County.
Georgia 4-H empowers youth to become true leaders by developing necessary life skills, positive relationships and community awareness. As the premier youth leadership organization in the state, 4-H reaches hundreds of thousands of people annually through UGA Cooperative Extension offices and 4-H facilities.
For more information about how to get involved with wildlife judging and Georgia 4-H, contact your local UGA Extension office or visit georgia4h.org